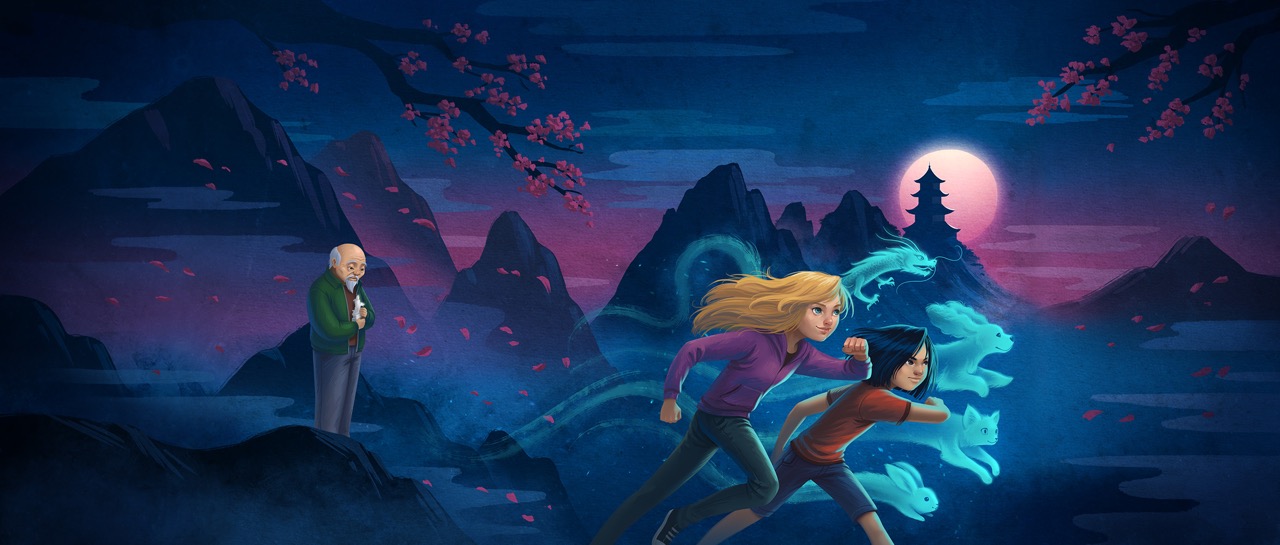 THE IMAGINARIES: and the Moon Princess
OVERVIEW
Moving to Shanghai from London for her father's new job, spirited 12-year-old Sienna finds herself adrift in a sprawling global city where modern high-rises clash with a mystical, old-world charm. Struggling to make sense of her new surroundings from the sterile 15th floor apartment she shares with her kind-hearted but distracted father, she only has her imaginary dog, Rufus - a plucky little black Spaniel invisible to everyone but Sienna - for company. Her mother went missing some four months earlier whilst on a work trip in rural China and hasn't been seen since but Sienna believes she will return, even if her father appears to have given up on ever finding her. When Sienna's father leaves on a work trip, much to her horror, Sienna is left in the care of sinister housekeeper, Ling, a stern, heavily made-up woman with thin eyebrows and a smile that doesn't quite reach her eyes.
But then Sienna discovers Ling's plot to steal her mother's jewellery, and she must flee her apartment, plunging head first into the dusty, jumbled alleyways of old, traditional Shanghai, strewn with bicycles, low-hanging laundry and pensioners playing Mahjeung. Sienna only just manages to avoid Ling's clutches with the help of Feng, a headstrong 11-year-old boy who waits tables at the café next door. Feng has his own secret – his brother Gege was with Sienna's mother the day she disappeared. United in their search for their loved ones, the young pair take a 15-hour night train to Pingdingshan in the Henan Province – the place where Sienna's mum and Gege were last seen four months ago.
Along the way, they enlist the help of a kind-hearted, mysterious wise old sage, Zou and his magical invisible friend, Bai tuzi, meaning 'white hare'. Figures of hares or white rabbits are commonly found at Chinese Moon Festivals, where they are associated with Traditional Chinese Medicine. Zou, the only adult who can see the children's invisible friends, understands their predicament and offers to help.
Discovering the Fragrant Mountain Temple where her mother – a famous archaeologist and art historian - worked as an expert in ancient artefacts, Sienna and Feng waste no time in uncovering a plot involving a fake goddess statue (The Moon Princess) and an underhand ruse to transform the Fragrant Mountain Temple into one of the most celebrated places in China on the eve of the Moon Festival. Sienna and her friends must overcome several of Ling's henchmen including corrupt, power-hungry monks, as they dodge rock falls and escape disused mines in order to confront the crooks and rescue Sienna's mother and Gege in an edge-of-your-seat climax set against the grand pomp and fireworks of the great Moon Festival.
An important day in the Chinese calendar for family reunions, this Moon Festival (aka Mid-Autumn festival) takes place on the 15th day on the 8th month when Chinese people always try their best to go back home from every corner of the world to celebrate the festival with their families…
Evoking flavours of Indiana Jones, Narnia and His Dark Materials, this live-action family film has a genuine warmth and depth that will delight and inspire audiences of all ages. CGI characters meets old-fashioned storytelling. A gorgeous, sumptuous visual experience, ingenious twists and above all, a genuine adventure. Blending a plucky, young, resourceful Londoner with the magical-realism of China's mystical past opens up a new perspective on a rich, captivating world.
The beating heart of this film is the friendship between two young characters drawn together because of their family situation, each dealing with how the absence of loved ones affects them and their shared determination and refusal to give up on the ones they love. A story of friendship and family, loss and endurance, this story has a rich, imaginative and thoroughly distinct quality that is, at once charming, heart-warming and deeply rewarding. Two cultures collide as our two young heroes take us on a truly thrilling ride.
Please email us to request the complete synopsis and pitch document.